T-1000 Liquid Metal Terminator 2: Judgment Day 30th Anniversary 1/3 Scale Premium Statue by Darkside Collectibles Studio
Manufacturer:

DarkSide Collectibles Studio

Product SKU: DSC-T2-004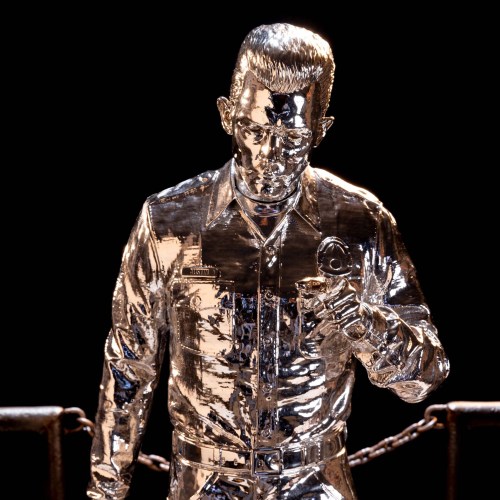 T-1000 Liquid Metal Terminator 2: Judgment Day 30th Anniversary 1/3 Scale Premium Statue by Darkside Collectibles Studio
Shipping Estimate
Applies to this product only
Description
John Connor: So this other guy, he's a Terminator like you, right?
The Terminator: Not like me, T-1000, advanced prototype. Made of mimetic polyalloy
John Connor: What the hell does that mean?
The Terminator: Liquid metal.
Celebrating the 30th Anniversary of the sci-fi classic 'Terminator 2: Judgment Day', Darkside Collectibles Studio TM proudly presents T-1000 Liquid Metal 30th Anniversary Premium Statue.
Following the Sarah Connor statue and the T-1000 portrayed by Robert Patrick, Liquid Metal version is the third addition to the T2 30th Anniversary collectibles series.
T-1000 is Skynet's elite assassin robot, whose body is composed entirely of a mimetic poly-alloy (liquid metal) that allows it to assume the form of other objects or people of equal mass. Able to liquify quickly, transform innovatively, change its color and texture to simulate clothes and other nonmetallic materials including morphing its body parts into solid metal tools or bladed weapons, T-1000 is the ultimate infiltration assassin machine.
T-1000 mostly disguises itself as a police officer to gain trust, access information, and provide a benign appearance. Darkside Collectibles Studio TM artisans captured and brought to life the exact turning point from liquid metal machine to police deceiver transformation. The Statue features high detail screen accurate Robert Patrick's likeness wearing the police officer costume as seen in the movie just before color is applied.
A high detailed light up themed base completes a stunning screen accurate representation of the scene.
Highly detailed and accurate the statue has been developed under the supervision of Studio Canal for a stunning result of the iconic character. The finest sculpting details are implemented in this statue to guarantee the satisfaction of all Terminator Fans.
Features:
One (1) Highly detailed T-1000 liquid metal Robert Patrick portrait as appeared in the Terminator 2 Judgment Day film.
One (1) light up theme base.
One (1) T-1000 Terminator 2 Base removable magnetic Plaque.
One (1) left hand with long sharp awl index finger
One (1) right hand with long sharp awl index finger
One (1) left hand with the iconic "No" gesture for alternative display
One (1) right normal hand.
• Edition Size 150.
• License: Terminator 2 Judgment Day.
• Type: Polystone Statue.
• Manufacturer: Darkside Collectibles Studio.
• Scale: 1/3 Scale statue.
• Product Size:
H: 70 cm (27.56 inches)
L: 48 cm (18.89 inches)
D: 38 cm (14.96 inches)
• Product Weight: 15 Kg.
• Box Dimensions: TBD.
Prototype sample shown.
Product details could be subjected to change without further notice.
2022 E.M.A Legendary Collectibles Group Ltd / Darkside Collectibles Studio TM.